Course details
【Lunch box】 Hand-made lunch feels the season using seasonal ingredients obtained from the seasonal nature everywhere ~ Deliverable ~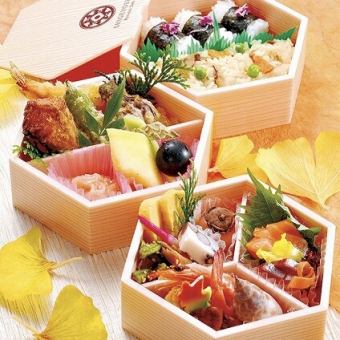 Reservation deadline

Coming up to 2 days before 18 o'clock in the desired date
Course menu
【Delivery of lunch box began】
It is derived from the seasonal nature
You can taste the seasonal taste using seasonal ingredients,
It is a boxed lunch in which all five organs made with one hand are pleased.
【Order deadline】 Until 18:00 two days prior to the delivery date
【Delivery time available】 11: 00 ~ 17: 00
【Closed holiday】 New Year's holidays · O-bon
【Minimum order amount】 20,000 yen
【Delivery fee】 0 yen
【Order reception time】 11: 00 ~ 21: 00 Cancellation Please note that cancellation fee of 50% will be incurred after 12:00 on the previous business day and 100% on the day.
(There are some exceptions) Fixtures · Return policy etc. · Display prices are all tax-included prices.
· Please enjoy the product as soon as possible after arrival.
· Please understand that the delivery time may be delayed due to traffic conditions etc.
· The photo is a sample example.The posted item and actual item may differ.
· The year-end and new year's opening depends on the store.
· Goods of free service will be the same as the order quantity of your lunch.
· For information on rice production area, please ask the delivery member.
【Payment method】
Possible payment methods Cash on delivery: ○
Invoice payment: ○
Delivery card settlement: ○ Corresponding credit card VISA, MasterCard
[Kaguya luxury bento] 2160 yen (tax included)
【Box Lunch】 1940 yen (tax included)
【Mountain lunch】 2160 yen (tax included)
【Empty lunch box】 1620 yen (tax included)
【Kagemusha Genshi】 2700 yen (tax included)
※ Consultation, we will receive your request.
Please feel free to contact us.
2018/06/18 update