Course details
【All you can eat】 Taste delicious season (● ^ o ^ ●) ★ Wagyu Beef Sushi ★ All-you-can-eat course 3500 yen (excluding tax)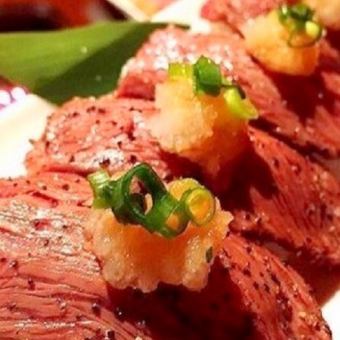 By using a coupon3500 yen
※ It will be tax free.
Reservation deadline

Coming to the store until the desired date of the day 17
Course tailoring of season and Hakata's delicious course, ★ All-you-can-eat ★ and well-balanced lean and fat balanced beef cattle lean and broiled the triangular area luxuriously for sushi.【You can afford to drink all you can eat for 2 hours at +1500 yen (It is 15 minutes before both the LO and all you can drink)】) ※ It will be a child friendly course (half for elementary school students and under) By all means on this occasion ...
Course menu
1 Assorted fresh fish sashimi from the Nagahama market
2 boasted potato salad
3 Hakata river bird charcoal grill
4 Hakata Akuta Tamagoyaki
5 season handmade croquette
6 Chicken Sasami's Sapphari Chicken Namba
7 ★ Grilled sushi with red meat and marbled red meat with red beef (all you can eat) ★
★ All-you-can-eat menu ★
8 Today's dessert
※ You can have a drink for 2 hours at + 1500 yen (All you can eat LO and all you can drink 15 minutes in advance)
Added premolly to all you can drink at + 500 yen OK!
※ All you can drink for + 500 yen is extended for 30 minutes!
*-*-*-*-*-*-*-*-*-*-*-*-*-*-*-*-*-*-*-*-*-*
※ Wagyu broiled sushi alone is all you can eat.Sushi goes out as cooked rice stuff.
Please order by order system after the second time on order.
※ Last order - is 15 minutes ago.Please refrain from leaving behind.
※ It will be tax free.
2018/06/18 update