DETAIL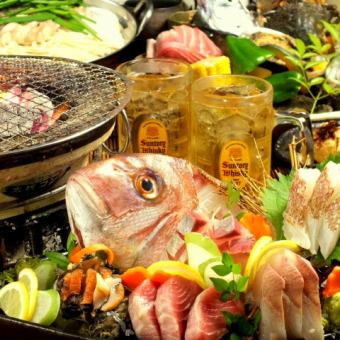 Bamboo 【Farewell reception party】 Seasonal freshly prepared seasonal course for 4500 yen 9 items (tax included) 90 minutes with all you can drink!
By using a coupon
4500 yen
※ It will be the price including tax.※ The photograph is an image.
Seasonal cuisine and sashimi prime, creative dishes, seafood baked goods or chopped course dish.+ 500 yen draft beer, premium all-you-can-drink at +1000 yen as well.
Menu

* - * - * - * - * Luxury Koshiba Shunfish Shunka Course * - * - * - * - * - *

■ Homemade tofu Kimchi

■ Shincha Caesar salad

■ Assorted fresh fish sashimi directly to Nagahama market

■ Handmade yam plenty Fluffy Tsukune

■ Charcoal grilling of Hakata river bird

■ Camembert Cheese Fry

■ Seafood Beach Grill Assortment or Incense House Special-made Ski Pot

■ Champion of Old Chazuke or later

■ dessert

Added premolly to all you can drink at + 500 yen OK!

※ All you can drink for + 500 yen is extended for 30 minutes!

*-*-*-*-*-*-*-*-*-*-*-*-*-*-*-*-*-*-*-*-*-*
Coupon that can be used
【Weekday banquet deals are profitable】 Customers booking on weekdays (Monday - Thursday) !!
Course dishes are upgraded UP (^ o ^) !!

Presentation conditions

At reservation & when entering the store ※ It will be limited to weekdays benefits

Conditions of use

1 pair 1 time 1 piece / 2 persons or more / card use unavailable / ex.) 3500 yen → 4000 yen / 4000 yen → 5000 yen etc. (Customers ordering 3500 yen course become contents of 4000 yen course meal Move

Expiration date

Until the end of March 2018

【Message desert plate and clock gift】
★ ★ birthday anniversary surprise

Presentation conditions

At reservation ※ For details, call !!

Conditions of use

※ Memories as it is on a watch ... ♪ You can write a message to the main protagonist yourself !! Please use it on an anniversary / birthday !! If you are asked for a course meal for 4 or more people

Expiration date

Until the end of March 2018

【Early Toku】 Customers who booked 2 weeks in advance!
Course dishes will be upgraded !!

Presentation conditions

At the time of booking and when visiting

Conditions of use

1 pair 1 time 1 piece / 2 persons or more / card use unavailable / ex.) 3500 yen → 4000 yen / 4000 yen → 5000 yen etc. (Customers ordering 3500 yen course become contents of 4000 yen course meal ) ※ Friday / Sunday OK !!

Expiration date

Until the end of March 2018

Weekday only, Secretariat privilege 【One person's free with reservation for 5 people!】
10 people → 2 people free !!

Presentation conditions

At the time of booking

Conditions of use

5 people / / other tickets / services can not be used together / reservation required ※ Friday Saturday is impossible / limited to courses over 3480 yen

Expiration date

Until the end of March 2018