DETAIL
Pine tree 【Farewell reception party】 Seasonal course to taste season 3,500 yen 9 items (tax included) 90 minutes Drinking attachment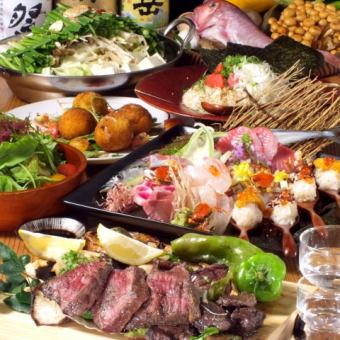 By using a coupon3500 yen
※ It will be tax inclusive price.It is 3500 yen refreshing !!
All-you-can-drink available

1.45h all-you-can-eat menu 【】 is a premium drink menu
It has become a course cooking from handmade dishes from sashimi to popular mopski pots from OPEN.Draft beer at + 500 yen! You can premium all-you-can-drink at +1000 yen.
Course menu
■ One item in the season (Edamame, vinegar mochi etc ...).)
■ Incense House Salad
■ Nagahama market sent directly! Fresh fish sashimi platter
■ Homemade Fluffy Tsukune
■ seafood pancake
Seasonal croquette
■ Kaibutsu's Skinpot
■ deadline noodles
■ dessert
※ For further details, please contact us.
All-you-can-drink menu
· Beer / Japanese sake / plum wine
· Golden wheat plum wine 【Premium Maltz, All Free / Hakkaisan, Ayanomi cherry tree, Hakata no Mori, Phoenix Mita, Old age spirit, Kikuhime, Okinawa Tiger extra dry / Square, Five generations, Anagose, Yuzu, Minoru】
Sour / highball
· Lime, lemon, Calpis, giant peak, blue apple / horny high ball 【Yamazaki high ball / Shirasu high ball / Yuzu high ball / Plum high ball / Sequercer high ball】
Shochu
· · 【Potatoes: Black Kirishima / Ishimi / Mitake / Nakamura / Teacher's soul / Tominobo Mountain / Kim Kirishima wheat: Yaeda / Nikaido / Midori / Nikko / Good rice is a good rice: White / Gold / Silver / Toriyama】
Shochu
· Wanko (wheat) Nanko (sweet) 【Shiso / Kozue Tan / Shisho Komachi / Corn / Black / Yoshiichi / Wasabi / Tennis】
·wine
· Carlos Rossi (red · white) 【Red: Peter & Peter / Doubletso / Sunset Creek / Talamanca / White: Garateo / Key Landing / Liver Stone Falls / Trebiano】
·Cocktail
· Gin tonic / Jim bag / Mosccommure / Fazy noble / Peach oolong / Passion orange / Matcha oolong / Matcha tea / [Screwdriver / Spumoni]
·Cocktail
· [Vodka Tonic / Strawberry Milk / Berries Milk / Berries Oolong / Yogreen Pine / Malibu Orange / Malibu Pine / Tinzano Rosso / Tinzanor Dry]
·Soft drink
· Oolong tea / Pine / Orange / Calpis / Grapefruit / Apple

Coupon that can be used
【Weekday banquet deals are profitable】 Customers booking on weekdays (Monday - Thursday) !!
Course dishes are upgraded UP (^ o ^) !!

Presentation conditions

At reservation & when entering the store ※ It will be limited to weekdays benefits

Conditions of use

1 pair 1 time 1 piece / 2 persons or more / card use unavailable / ex.) 3500 yen → 4000 yen / 4000 yen → 5000 yen etc. (Customers ordering 3500 yen course become contents of 4000 yen course meal Move

Expiration date

Until the end of April 2018

【Message desert plate and clock gift】
★ ★ birthday anniversary surprise

Presentation conditions

At reservation ※ For details, call !!

Conditions of use

※ Memories as it is on a watch ... ♪ You can write a message to the main protagonist yourself !! Please use it on an anniversary / birthday !! If you are asked for a course meal for 4 or more people

Expiration date

Until the end of April 2018

【Early Toku】 Customers who booked 2 weeks in advance!
Course dishes will be upgraded !!

Presentation conditions

At the time of booking and when visiting

Conditions of use

1 pair 1 time 1 piece / 2 persons or more / card use unavailable / ex.) 3500 yen → 4000 yen / 4000 yen → 5000 yen etc. (Customers ordering 3500 yen course become contents of 4000 yen course meal ) ※ Friday / Sunday OK !!

Expiration date

Until the end of April 2018

Weekday only, Secretariat privilege 【One person's free with reservation for 5 people!】
10 people → 2 people free !!

Presentation conditions

At the time of booking

Conditions of use

5 people / / other tickets / services can not be used together / reservation required ※ Friday Saturday is impossible / limited to courses over 3480 yen

Expiration date

Until the end of April 2018
2018/04/19 update