Course details
【Weekday Limited · Farewell Course Course】 2 people ~ Target! From draft beer to famous brand sake! 4000 yen 90 minutes drinking attachment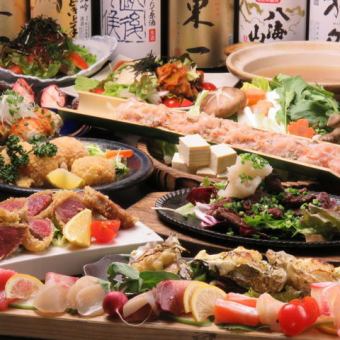 By using a coupon4000 yen
※ tax will be charged.
All-you-can-drink available

All-you-can-drink menu
◆ Main courses of choice for welcoming courses ◆ The cuisine will serve a total of eight shop owner's specialty dishes.From May, add sukiyaki pot of wagyu lean meat, grilled chicken cooked with gomadare, full-baked cooked dishes ★ All you can drink is draft beer from famous brands such as festival · eiichi etc. Japanese sake, various highballs also enriched Weekday only (Monday - Thursday / Sunday) * Please contact us in advance for the main menu you can choose.
Course menu
◆ Farewell reception course for main dish you can choose ◆
1 incense house salad using Asakura vegetables of 5 kinds
2 plush sashimi from the Nagahama market
3 Fluffy fluffy homemade Tsukune with plenty of cartilage and yam plants
Four season croquette
(Fried chicken croquette, tomato croquette, shrimp croquette, foie gras croquette, corn)
5 Gratin with scallops with scallops
~ Handmade from Bechamel sauce ~
6 Main dish you can choose
~ 【【Nabe】 or 【Charcoal Grill】 1 dish ~
(* Please fill in "Request to store" in reservation or contact us by the day before.)
↓ ↓ ↓ ↓ ↓ ↓ ↓ ↓ ↓ ↓ ↓ ↓ ↓ ↓ ↓ ↓
【pot】
· Sukiyaki pot of Wagyu beef red meat
· Hakata river bird's water cooker
· Skinpot with incense recipe
· Wagyu Beef Shabu-shabu Nabe with Home-made Gomadare
【Charcoal-grilled】
· Charcoal grilling of beef sagari
· Grilled chicken with charcoal grill
7 noodles or ochazuke
8 Today's dessert
※ In the case of reservation on the day the food content may change.
All-you-can-drink menu
· Beer / Japanese sake / plum wine
· Premium Maltese, Golden Wheat, Plum wine, Red plum wine, Akoshi plum wine, Yuzu plum wine, Kakudama plum wine, rare festival festival, Higashi Iku of Saga, Hot Springs of Niigata, Hakkaisan of Niigata, sake sake, seasonal sake etc., ,
Sour / highball
· Lime, lemon, calpis, gigantic peak
Shochu
· Full sweet potato shochu, wheat, black Kirishima, Red Rabbit, Mikake, Shima beauty, Toyaki cedar, Niseido, Shiratake, etc ..
· High Ball (Super carbonate)
· Super carbonate angle high ball, Chita high ball, Ginger high ball, Coke high ball, Yuzu high ball, Kabos high ball
·wine
· Karurorosshi (red and white)
·Cocktail
· Gin tonic / Jim bag / Mosccommure / Fuzzy group / Peach oolong / Passion orange / Matcha oolong / Matcha milk / etc ...
·Soft drink
· Oolong tea / Orange / Calpis / Grapefruit / Apple / Coke / Ginger ale
2018/06/18 update